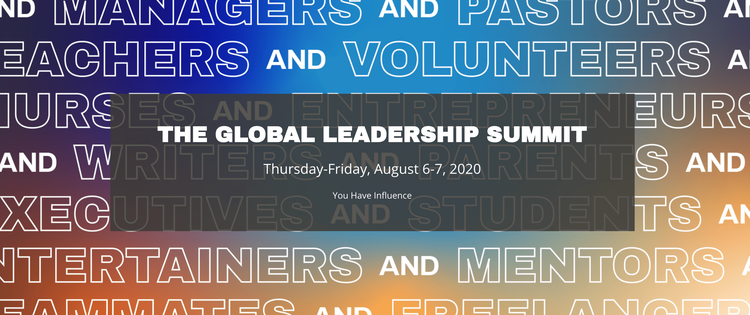 YOUR LEADERSHIP MATTERS
…and it matters now more than ever. How are you using it?
WHAT IS THE GLOBAL LEADERSHIP SUMMIT?

The Global Leadership Summit is your opportunity to access a wealth of leadership insight from a world-class faculty ready to equip and inspire you—no matter where you have influence. When you grow in your leadership and use your influence for good, you can strengthen your relationships, maximize the impact of your church, business or organization, or ignite transformation in your community! The Summit is a 2 day event that will change the trajectory of your year as a leader!
CHECK OUT THIS YEAR'S FACULTY HERE

LEARN ALL ABOUT THE SUMMIT HERE
THE SUMMIT DURING COVID-19…

Historically the Summit has taken place in churches across the country, simultaneously, as each site live streams amazing leadership content from the main summit site in Chicago. This year, the Summit will be an Online-Only broadcast, still live streamed, with the opportunity to rewatch the talks on-demand for 7 days after the GLS takes place. We are encouraging people to be "conveners" that gather small groups of people to watch and discuss together during the live broadcast, in environments that honor current Covid-19 Safeguards.
GET YOUR DISCOUNTED TICKET!

LIVE OAKERS! You can get your ticket to the Summit for a deeply discounted rate.

>>All you need to do is EMAIL US for the discount Priority Code.

>>Then go HERE to get your ticket
HELP OTHERS GO!!!

Would you or your business like to sponsor some strategically placed but under resourced leaders in Lubbock to the GLS? If so, please consider giving HERE